However, it just didn't look quite right.
On arrival at the beach their fears were confirmed, the wind was blowing directly down the beach.
Employing all of Shane's kite flying skills, they were able to set the kite on the maximum possible tack and achieve a fishable setting angle on Shane's 65kg Dropper Rig.
Unfortunately the wind died away completely before they had a chance to set it.
Well, it was already late but these keen Westies were not leaving without a feed, the decision was made to wait and see what happened as the wind often gets up after dark.
It was a to be a long wait, it was around 2.30am before the wind finally picked up again.
Shane and Steve had prepared their bait in Shane's secret marinade of natural oils and salt. They had a mixture of bonito, mullet, kahawai and squid baits.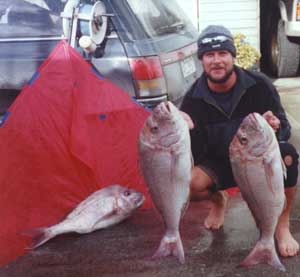 Photo Above : Patience, Shane's expertise and local knowledge were more than rewarded on their last kite fishing trip to Te Arai Point.
Fishing close to the rocks at Te Arai Point should only be attempted with sand Dropper Rigs by those who know the area or with Dropper Rigs fitted with sacrificial ledger rigs by those who are not familiar with the area.
Above Steve displays some of the catch taken on their all night expedition.