Wanganui Longline Report - Paul Major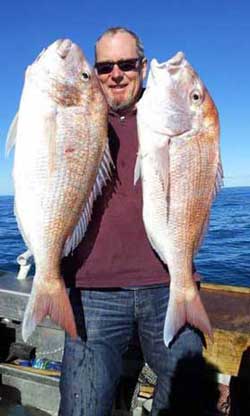 I have been out every 3 weeks or so as weather and work permit and the spikey dogfish have been taking the odd hook here and there.
But in amongst them there have been some nice snapper. The two in the photo were caught a couple of weeks ago in 24 metres about 4 kilometres out from the river entrance. They were 6.3kg and 5.2kg. I also did another set of 25 hooks in 21 metres but that one came up with spikies and a few fish surgically cut in half.
During the winter I reduce the bait size to half the usual to help prevent the shark on every hook senario. I find that all the snapper and gurnard are still present during the winter and reducing bait sizes is a better option that packing the boat away. Cheers for now. Paul
Paul's Fishing Kites
Shop Address: 39a Neilson St, Onehunga, Auckland.
Phone: (09) 634 5005 or visit our Shopping Website and shop 24/7 at your leisure.