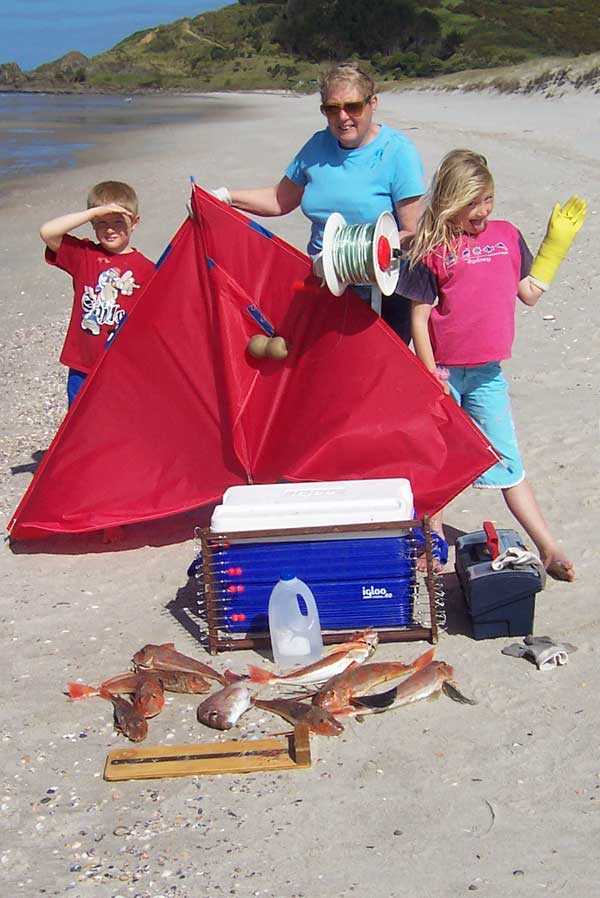 On arrival we found we had to walk a bit as there were three other kites out and a plastic bag. We noted that all the other kites were flexiwings from Paul's.
We used out nighthawk kite We put the lessons of Tuesday to good use and had a really good set, much to the fascination of the grandchildren. We left it our for an hour and the retrieved.
The shouts of the grandchildren at sighting the first fish could well have been heard in Auckland. Total catch - 6 big gurnard and one snapper.
Jenny and I looked at each other, then at our watches. Why not, and out the line went again. Unfortunately a wind change meant we had to retrieve early.
Nevertheless, another two gurnard increased our catch to eight plus the snapper. The attached pics show Jenny, and our grandchildren, Bethany and Eric, with our gear and catch.
Murray is the photographer Te Arai Point in the background. A fun day and thanks to all at Paul's, particularly Rob, for your help.
Murray Morgan
Paul's Fishing Shop Hours over the Christmas Break
Merry Christmas and a Happy New Year from the team at Paul's Fishing Kites.
PFK shop Open Hours over the holidays
Closed Dec 25 to 28th
Open Dec 29, 30 and 31
Closed Jan 1 & 2
Open Jan 3rd
Closed Jan 4th
Resume normal hours Jan 5th.
Check Out Our New Online Fishing Tackle Store
Kite Fishing in Rapahoe near Westport / South Island By Neill Sperath and Doug Burt
The West Coast of the South Island between Greymouth and Westport is a great area that I've wanted to kitefish for a while.
Last week I met Doug while doing some contract near Westport and Greymouth with my wife Ceillhe and it turned out that he, too, loved Kite Fishing and other types of fishing too.
He has been doing Kite Fishing (using Paul's Kites of course!) for many years now and we decided to go out on a beautiful but cold winter's morning. Greymouth is now also well-known for its amazing Bluefin Tuna Fishing, which takes place each Winter.
We met early about an hour before sunrise on a freezing cold morning with a temperature of just over freezing point. When considering wind chill it was actually about -2 Degrees Celsius, so something that separates the men from the boys. Doug has his Kite Fishing well-sorted, with all his gear in very good nick and always ready to go.
He had even already baited up all the hooks before I arrived - very impressive!
The easterly breeze of about 15 knots took the kite out to sea, along with 10 fishing hooks baited mainly with Squid but interestingly, also a Prawn.
The gloves we had taken with us were more than welcome, since it does help when fishing to be able to feel your hands.
There was an spooky sort of mist on the water, which made the start to the day quite mystical. We left the baited fishing hooks out to fish for about 30 minutes before slowly winding in the fishing line.
When it came closer to shore just at daybreak, it was a sight to behold. We caught 6 sharks – local grey sharks - plus a red cod that had his tail bitten and a large portion of his middle "sharked".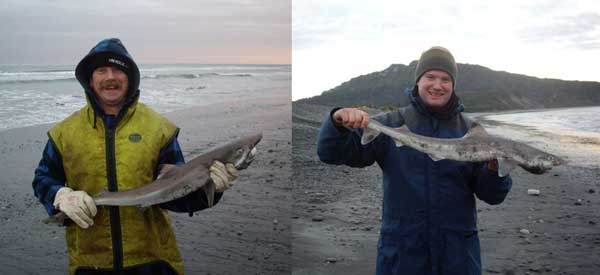 It was a great sight with the Mountains behind us, the wild ocean in front of us, with some freshly caught fish for dinner waiting to be prepared by a few local families.
Doug did manage to save a bit of the nice flesh from the "sharked" red cod and it tasted great that evening, freshly fried in the pan just with some butter.

Doug was very popular again at work that day, even bringing his workmates pre-filleted fish for their dinner! It was another fantastic experience and I can't wait to get back there.
Something tells me it might just be around August, so I can combine Kite Fishing with the possibility of having a crack at those giant bluefin tuna further off the coast. Doug and I plan to try a few things with my Paul's Kites Flexiwing Kite and I can't wait.
Did anyone ever say that Kite Fishing in the South Island isn't successful? Doug certainly knows his stuff and we can prove otherwise – see photos!
By the way, the Shark tasted beautiful too.
Cheers, Neill Sperath & Dug Burt