Jim Gurnick and Peter Aro went kite fishing on Ninety Mile Beach with a Paul's Fishing Kites longline rig on the 7th of January.
They fished straight out from the camping ground at Shipwreck Bay.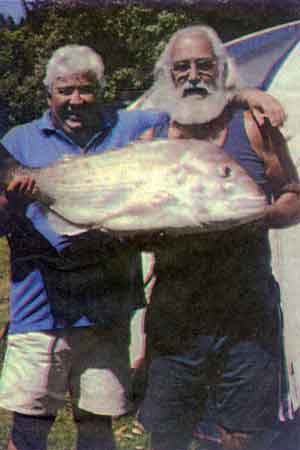 The pair put out three sets of 10 hooks baited with squid bait and fished from 8pm untill midnight.
They also attached three lightsticks to the gear.
One, placed on the kiteline under their Night Hawk kite was highly visible at 1000 meters offshore.
The other two lightsticks were placed at each end of the hook section.
Their first set returned with five good sized snapper, the next set caught another two decent snapper.
The monster snapper, which tipped the scales at 28.2 pounds (12.7kg), was the only fish caught on the last set.
Initially everyone was overjoyed at the catch, that is until the boys decided they wanted to get the fish mounted.
Before then, Peter's wife was really looking forward to eating the fishes enormous head and in particular the eyes, which are considered a prized delicacy by Maori seafood connoisseurs - a rare treat she was very dissapointed she would now have to miss out on!