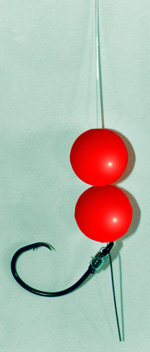 Fishers who have used the floating baits in the past have reported a significant increase in their catches of kingfish, big snapper, kahawai and trevally.
Surprisingly, gurnard find floating baits irresistible as well.To assist kitefishers who want to deploy some of their baits off the bottom we have imported a new floating bead.
These flouro red beads are 18mm in diameter and have been given the float test for bait sizes. A single bead on a trace will float an average size bait.
Two beads are required for larger baits such as baby squid.
Fishers who do decide to use floating baits will get the maximum benefit from using a whole fish or whole small squid bait as these baits present themselves far more naturally to the targeted species than a cut strip bait.
Four or five floating baits on a longline or big dropper rig, or two or three on a Flexiwing rig, can really improve your chances of catching a good fish, particularly when crabs are a pest or the fishing is hard.
Because of the potentially larger fish you will be catching we highly recommend a minimum hook size of 5/0 on the floating baits.