Only one (the biggest trevally of course!) managed to break off, despite the often frighteningly evil terrain I was casting into, but admittedly some slick boat handling helped, too.
Upon my return and a glowing report, Grant Dixon asked if he could use the same reel and line over in Tonga, and as he's my boss, I had to say yes.
By the time he came back, he'd caught "everything" on the line, including some nice dogtooth tuna up to 28kg on jigs , and like me, had been thoroughly impressed. But how could one not be?
Giant trevally and dogtooth tuna are two of the toughest fish in the world, and they had been wrestled from some of the most unforgiving terrain - yet this PFK superbraid was still going strong!
So after catching a few "modest" kings to 20-plus kilos on it in New Zealand, I simply reversed the line on the reel and took it to the Cook Islands for more fun, this time on wahoo and yellowfin tuna on jigs, as well as more evil GTs on poppers.
Now back home again and restless, I'd put that old line to pasture for services rendered if possible as it's more than earned retirement, but instead it lives on!
So I know which brand I will be replacing it with in the future!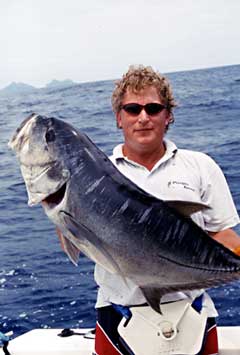 Above : Without the super-tough PFK braid, this 25kg GT might well still be swimming around in the tropical waters of Fiji!